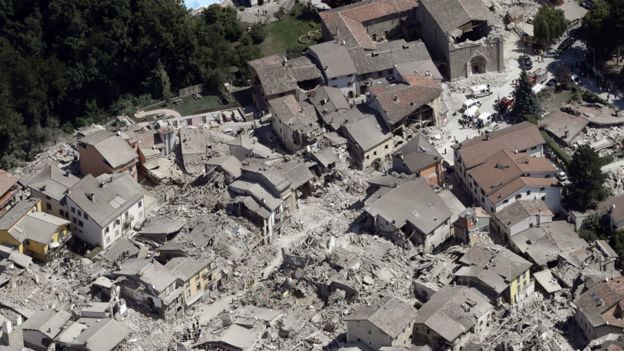 Amatrice: Most of the pretty historic town is now rubble, blanketed in grey dust
The death toll in the Italian earthquake has risen to at least 247 as thousands of rescuers continue efforts to find survivors.
Dozens are believed trapped in ruined Amatrice, Accumoli and Pescara del Tronto, in mountainous central Italy.
Rescuers have advised journalists and bystanders to leave Amatrice urgently, as "the town is crumbling", the BBC's Jenny Hill says.
New cracks appeared in the town's hospital after strong aftershocks.
The search for survivors went on through the night, amid hundreds of tremors and an aftershock which rocked already damaged buildings.
More than 4,300 rescuers are using heavy lifting equipment and their bare hands.
Many of the victims were children, the health minister said, and there were warnings the toll could rise further.
The 6.2-magnitude quake hit at 03:36 (01:36 GMT) on Wednesday 100km (65 miles) north-east of Rome.
Some tremors after the quake were felt as far away as Rome.
"We are sleeping in the car and there were shocks all night. When the biggest one came, the car started moving and shaking," said Monica, a survivor from Amatrice.
A tented camp has been set up, as so many buildings are now unsafe.
The latest death toll was given on Thursday morning - 190 deaths in Rieti province and 57 in neighbouring Ascoli Piceno province.
Prime Minister Matteo Renzi was chairing an emergency cabinet meeting on Thursday. The agenda included reconstruction plans for the devastated area.
Rescuers said they had pulled five bodies from the ruins of the Hotel Roma in Amatrice. As many as 70 tourists were staying at the hotel when the quake struck. Many are feared to be in the rubble, though several were pulled out and given medical care.
Many of those affected were Italians on holiday in the region. Some were in Amatrice for a festival to celebrate a famous local speciality - amatriciana bacon and tomato sauce.
Late on Wednesday there were cheers in the village of Pescara del Tronto when a young girl was pulled alive from the rubble after being trapped for 17 hours. Almost all the houses there had collapsed, the mayor said.
The quake struck small towns and villages in the mountainous area where the regions of Umbria, Lazio and Le Marche meet.
Among the victims was an 18-month-old toddler, Marisol Piermarini, whose mother Martina Turco survived the deadly 2009 earthquake in L'Aquila and moved away from there after the experience, Italian news agency Ansa reported.
Ms Turco was being treated in hospital after being pulled from the rubble in the village of Arquata del Tronto, Ansa said.
Read more here on BBC
Death Toll Reaches 247 Amid Rescue Efforts in Italy Earthquake
Reviewed by
E.A Olatoye
on
August 25, 2016
Rating: