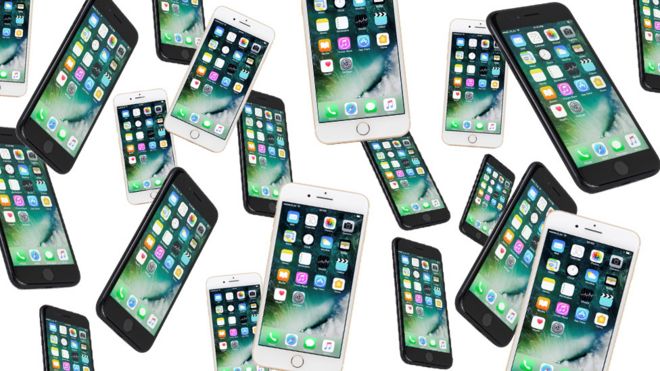 Buying a house is generally seen as one of most costly purchases one can make. It's especially true in China, where house prices continue to rise.
Given what the challenge it can be to get on the property ladder in the country, it's probably no surprise that Chinese social media was buzzing with one particular property story last week.
It started when a blog was published on the popular blogging platform the Tian Ya Yi Du forum, by a person writing under the pseudonym 'Proud Qiaoba'.
Proud Qiaoba penned a tale that, if we hadn't been able to verify it ourselves, would seem like the plot of a pretty average airport romance novel.
The lead character in Proud Qiaoba's account is a colleague, whom Chinese media have dubbed 'Xiaoli' (not her real name).
Xiaoli, a woman from the city of Shenzhen in southern China, asked each of her 20 current boyfriends to buy her a newly launched iPhone 7. She then sold all of the phones to a mobile phone recycling site called Hui Shou Bao for 115,010 Chinese yuan (about £14,000), and used the money to put down a deposit on a house in the countryside.
Proud Qiaoba wrote in the blog post that when Xiaoli showed her new house to their group of friends, they were all very surprised when she revealed how she had managed to obtain the money for the deposit.
"Everyone in the office is talking about this now," wrote Proud Qiaoba, "Who knows what her boyfriends think now this news has become public."
Proud Qiaoba added that Xiaoli "is not from a wealthy family. Her mum is a housewife and her dad is a migrant worker, and she is the oldest daughter. Her parents are getting old and she might be under a lot pressure hoping to buy them a house... But it's still unbelievable that she could use this method!"
Many people on China's microblogging site Sina Weibo have been expressing their surprise at Xiaoli's enterprise and quick work in convincing her 20 lovers to each buy her the latest in Apple's mobile coterie - particularly since the iPhone 7 was only recently launched, on 16 September of this year,
A hashtag which translates as '20 mobiles for a house' quickly began to circulate on Weibo, and became the country's top trend. It has now been used in excess of 13 million times.
Many social media users, like 'small sand is growing', have expressed admiration for Xiaoli.
"I can't even find one boyfriend. She can actually find 20 boyfriends at the same time and even get them to buy her an iPhone 7. Just want to ask her to teach me such skills."
Another, 'TST' praised her enterprising nature, saying that she has "a bright future."
But others haven't been so complimentary.
'Little Bee' wrote that Xiaoli was "the most shameless person".
Others were suspicious and wondered if the whole story was an elaborate product placement for Hui Shou Bao, the mobile phone recycling business.
BBC Trending approached Hui Shou Bao and a company spokesperson confirmed that they had indeed purchased 20 iPhones from a female client at the beginning of October and paid 5,750 Chinese yuan (about £700) for each one.
We put in a request to interview Xiaoli through the company. They responded to our email saying that they had asked their client if she would like to speak to us, but she had declined.
"Her day-to-day life has been affected (from the local media attention) and she doesn't want the media to continue covering this story," they said, "so she has turned down your interview request."
Credit: BBC
How Chinese Woman Bought A House With 20 iPhones From Her 20 Boyfriends
Reviewed by
E.A Olatoye
on
October 29, 2016
Rating: