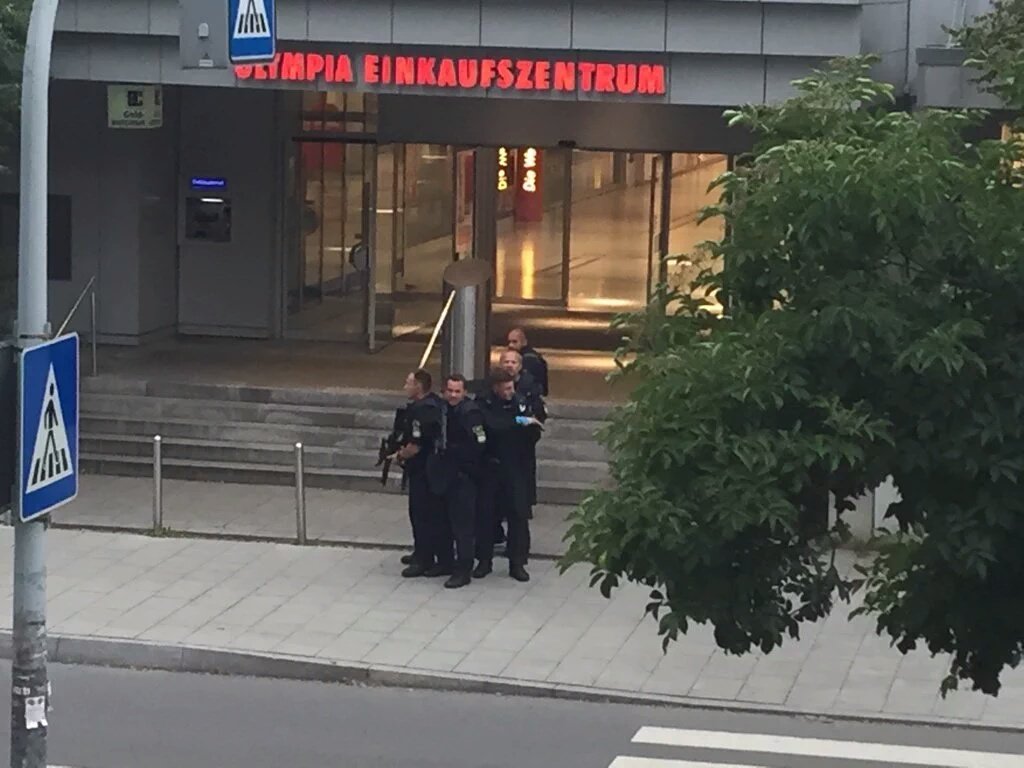 Police at Olympia Shopping Centre
A big operation is under way. Police are telling people to stay at home and avoid the streets.
Several people have also been injured at the shopping centre in the north-western Moosach district.
Reports speak of one attacker. Some shopworkers are reportedly unable to leave the building.
There is no information about a possible motive for the attack.
The security forces have been on alert after a migrant stabbed five people on a train in Bavaria on Monday.

The authorities had warned of the danger of further attacks.
A man working at a local petrol station told the BBC: "We see just ambulances and it's like firemen and police but all this area is evacuated, all the streets.
"Now [there] are no cars just on the side of the streets. All of the streets are blocked. I see that the people are scared. Everybody are running around."
Public transport is said to have been suspended as the security operation continues.
German media are reporting a mass shooting at a shopping mall in Munich
Police have said they are responding to an incident at the OEZ Munich Olympia Shopping-Centre
At least one person has been killed, according to AFP
The shooting is the second attack in Germany in less than a week. On Monday, a 17-year-old Afghan wounded four people in an axe and knife attack on a regional train near the Bavarian city of Wuerzburg, and another woman outside as he fled. All survived, although one man from the train remains in life-threatening condition. The attacker was shot and killed by police. The Islamic State group claimed responsibility for the train attack, but authorities have said the teen likely acted alone.
Source; BBC
Shooting at Munich's Olympia Shopping Centre
Reviewed by
E.A Olatoye
on
July 22, 2016
Rating: